At Old World Stoneworks, the names of our cast stone fireplace mantels are highly thought out because of the design inspiration in which they came from. When creating these beautiful pieces of work, we not only strive to make them look luxurious but to also transport you into another world.  
European designs for cast stone fireplace mantels can be described as many elements beautifully blended together. It starts with the rich historical bones of European elegance, fused with the modern and sharp-edged details that we love today.
Here are some of our top European-inspired fireplace mantel designs that will bring the effortless yet sophisticated European vibes into your living space:
The Calais
With a renaissance feel and an old-world charm, the careful details of our Calais mantel extended down the legs with a commanding yet gentle presence. This design will surely transport you from the living room to the beautifully romantic northern city of France.
Carved Brentwood
With art deco-inspired sophistication, the Carved Brentwood cast stone mantel is the epitome of European style. This luxurious is design is full of delicate and sophisticated carvings that will entice conversation while tying your whole room together.
Majorca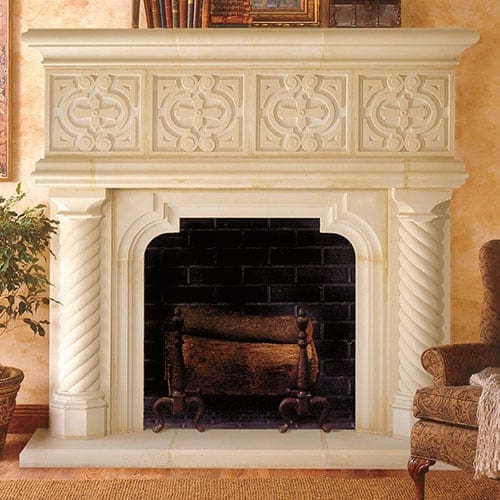 There is no doubt that the Majorca fireplace will make you feel like you're in the Mediterranean. This expertly curated fireplace surround is a balanced collection of clean lines, soft curves and rich in culture. This design is sure to amp up any room. We can already hear the Mediterranean ocean waves crashing.
Manchester
Just like the city, our Manchester fireplace mantel is rich in historical design. From its classy yet poised design, this fireplace mantel is the perfect way to enhance your home with some nostalgic aesthetic.
Stoneleigh
The mix of lion's paw columns and intricately detailed carvings make Stoneleigh a unique addition in your home. This design is a fusion of traditional European flares and classic styles. This cast stone fireplace is sure to spark up a conversation.
Verona
The Verona cast stone fireplace looks as if it is jumping right out of the European history books and into your home. Comprised of unique hand carvings of regal griffins and a distressed finish that completes this impeccable structure; this design exudes luxury.
As you can see, it's possible to transform your living space into a sophisticated yet luxurious European escape. Contact us for a consult or a custom quote for your living space