Think fireplaces are just for family rooms? We've compiled a list of five unique cast stone fireplaces from Old World Stoneworks to inspire you this spring! Take a look at some of the examples below from Houzz and Pinterest. Then, let us know of any special places you've seen a beautiful and memorable fireplace installation. Visit us on Houzz or Pinterest to see even more examples.

The Cozy Bedroom
Fireplaces in the bedroom are a wonderful place to spend chilly winter evenings. Old World Stoneworks makes many models of cast stone fireplace mantels, sized to fit your space. We'll help you determine the right size, and even customize as-needed.

The Outdoor Porch
If you haven't considered an outdoor fireplace, take a look at the two examples we have here. Each one is beautiful and useful at the same time. We can help you determine the best type of cast stone mantel design for your outdoor area.  

Four-Sided Living Room Installation
This incredibly unique installation was a custom commission for Old World Stoneworks. We love that it shows an entirely different way of having that wonderful firelight glow in your home.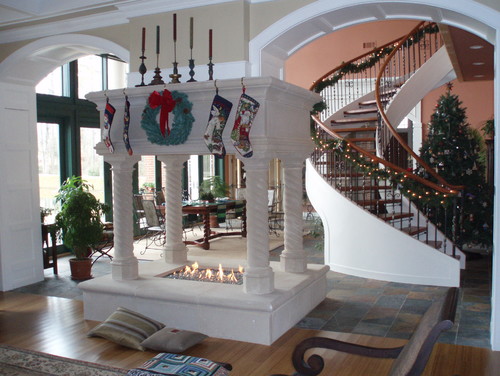 The Well-Appointed Master

The Garden Terrace